Theo Verelst Local Diary Page 73

I've ditched the usual header for the moment, I think it doesn't help much anyhow.
This page is copyrighted by me, and may be read and transferred by any means

only as a whole

and

including the references to me

. I guess that's normal, the writer can chose that of course, maybe Ill make some creative commons stuff one day, of course I have made Free and Open Source software and even hardware designs available!


This page is under construction, so check back later, too.
April 18, 2009
I'v reduced the size of the HD screendumps a bit, I don't know how many of you viewers out there have HD screens...


More music HD video from me

I made a recording of a pipe organ simulation on the synthesizer: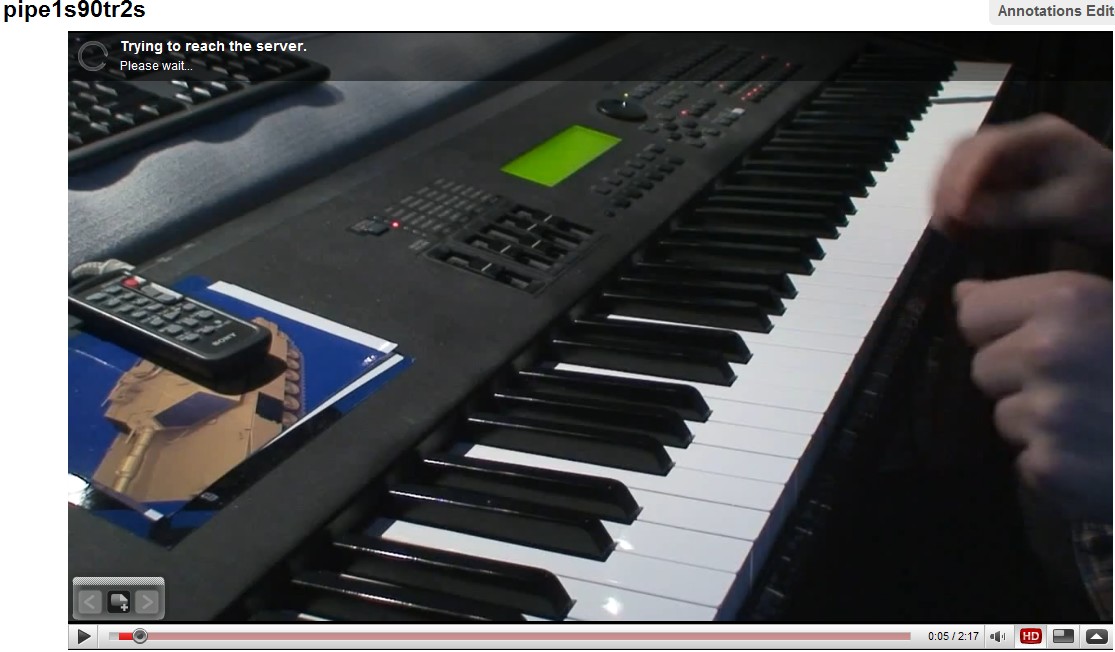 So you can compare (if you take the time to download), the uploaded file:

pipe1s90tr2s.mp4 4 megabit/sec mpeg4 video, aac 256kbps audio, 2 min 17 sec, 70 Mega Byte file

The S90 midi sound dump for the exact sound is here.

On the jazz side of things which I made, yesterday I made, edited and put on youtube a version of Tipatina('s) played on S90 and electric guitar, where I used Rakarack to put effect on it, and I recorded 3 tracks and HD of the playing of drums, electric piano and guitar.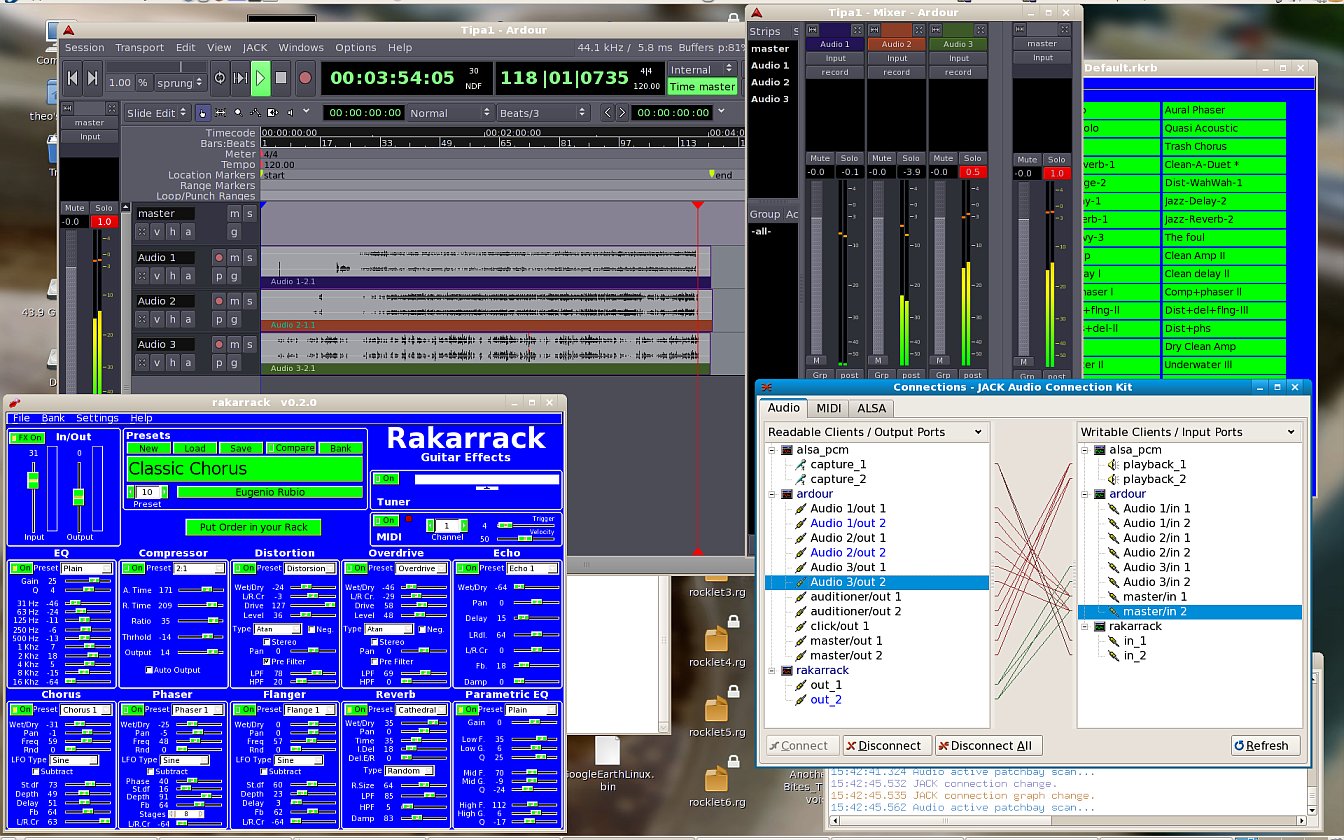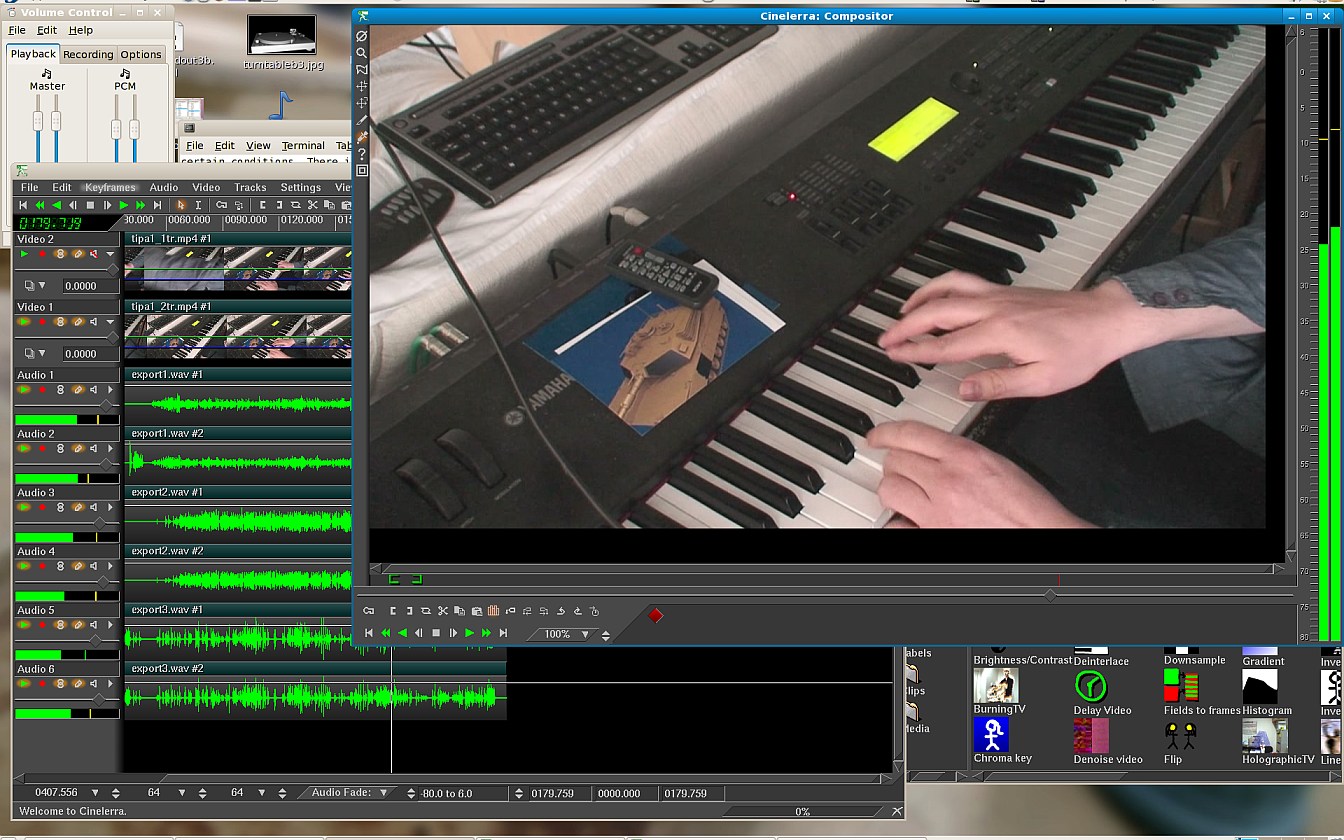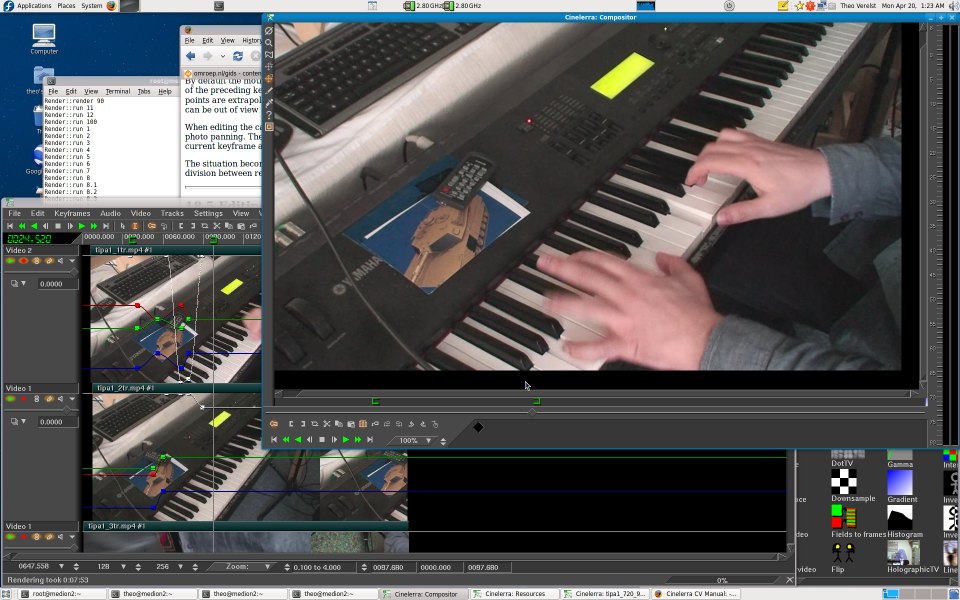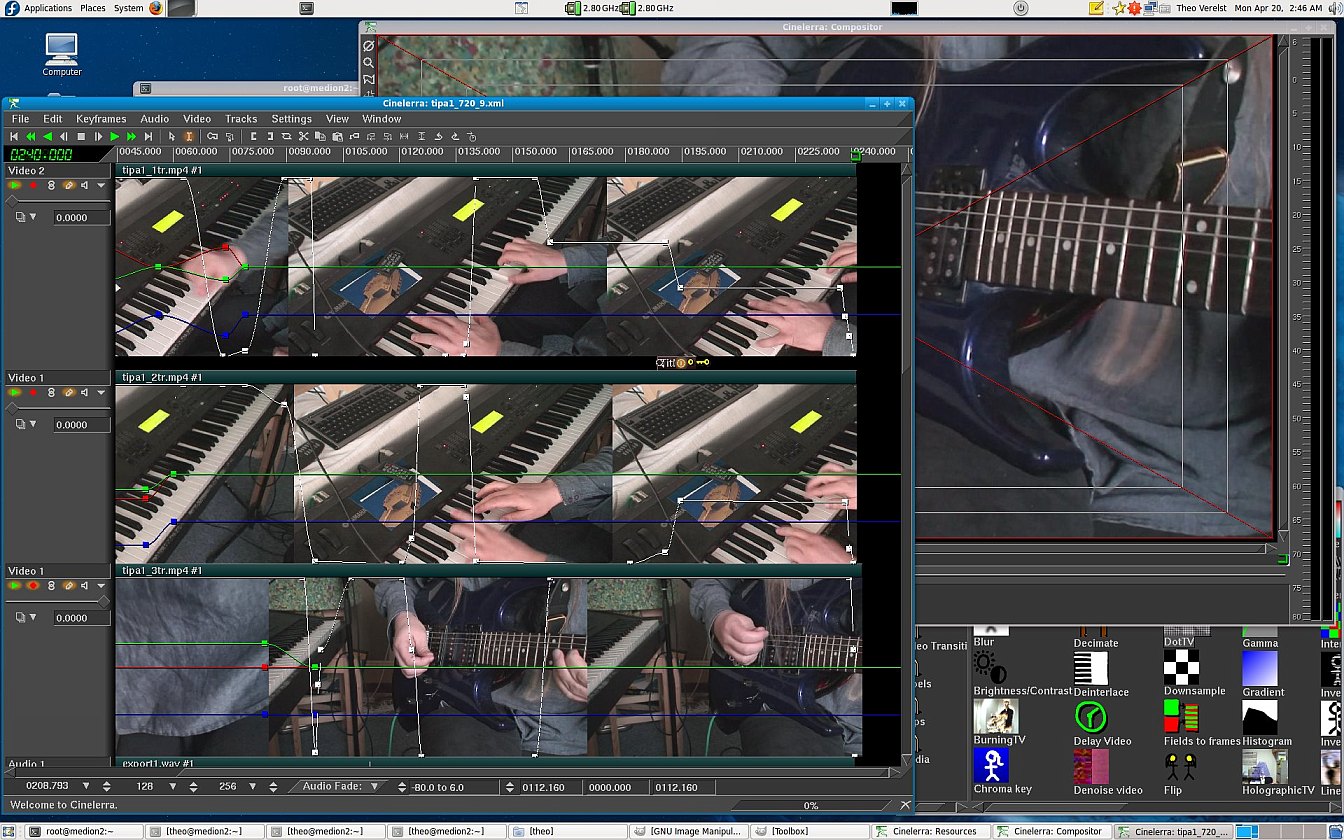 The result on youtube, in High Definition (HD, of the 720 variation):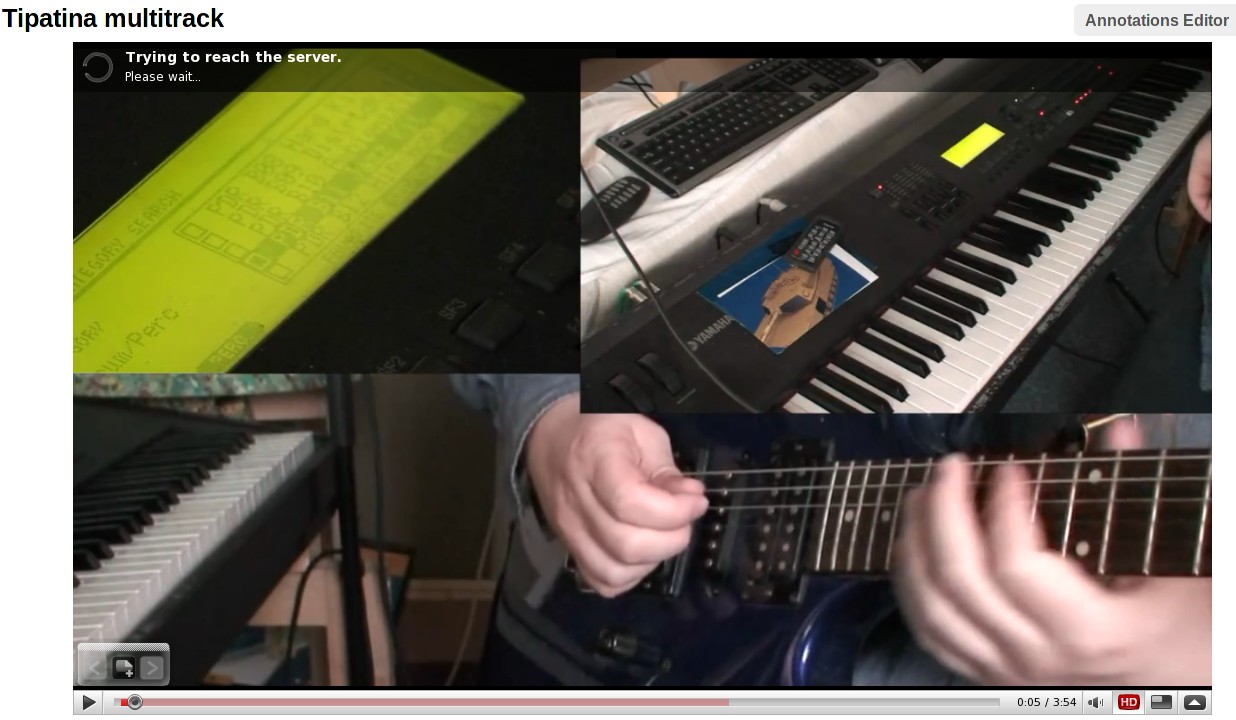 (Click on image to go there)


Search facility for theover.org

Well, I put on a Wiki as a part of the www.theover.org local pages (meaning they are stored on some machine which is also used for more homely purposes a lot and is not part of a 'server park' or some little part of a server which stores materials for a lot of people) as I described two pages ago, and now I've compiled the Free and Open Source software package 'Data Park Search Engine' and installed it with access to a PostgreSQL database server and the Apache web server I use, so that now I can index all the files on this (and in principle other) server and search the content of the pages, like with Google:

this is from my latest version of the www.theover.org homepage (on the bottom):


which can be used from here as well: type in a search word or words, press return or "Search" and you'll get a answer like this:


---
Search for projector. Search results: projector: 18 / 18.
Results 1-8 of 8. Search took 0.130 seconds


Sort by: relevancy | last modified date
---

It can be made to index automatically, which I don't do, but it isn't very hard to run the indexer, and an incremental index



Bwise database access

Well, I did what is on this page from the tcl wiki 'Linking Bwise with PostgreSql':






This is an example of letting a block talk to the database server and retrieving some data, based on two input terms deciding on which search term and which table to use. The output uses a tcl-list converted result which is a list of lists, in this case from a table of squares.

The fun part is either to combine blocks with search or other sql terms by using the same logic as when I combine formulas for Maxima to built mathematical expressions, or to simply combine this type of blocks with other bwise facilities or more database access blocks to do more complicated things in a generally usable way.




Tipatina's production techniques

The song I described above having been recorded including High Definition Video images and 3 24 bit AD converted stereo audio tracks I've worked on somewhat using the Linux Ardour(2) audio program, LADSPA plugins, and Jamin, the 32/1024 band FFT based equalizer/multiband compressor.

In essence I've used the three tracks I had recorded from the 'live' recorded multracked jam I did with my own tracks, and added either one extra track on which I recorded a jamin processed mix of those, which then I mixed with the original, and I shifted the tracks as to try to compensate for the relative timing of the subsequently recorded tracks, as in the 1st plays back, while the second is recorded, I sit 3 to 4 m meters from the monitors, and the AD/DA converter has delay unknown to Ardour. For the 2d and the third track I have the choice to sync to 1 or to 2, which makes it impossible to correct the timing difference unless I synced the guitar consistently to the e piano or the drum track. What a mess....

The Youtube movie hasn't tried to correct this, here I have:

tipatina's shifted tracks, not exactly normalized to 0dB, mixed with jamin processing + some reverb (03:50 CD quality

.wav

file

39 Mega bytes

)
idem (.mp3 256kbps 7 MB )

An impression of the Jamin processing: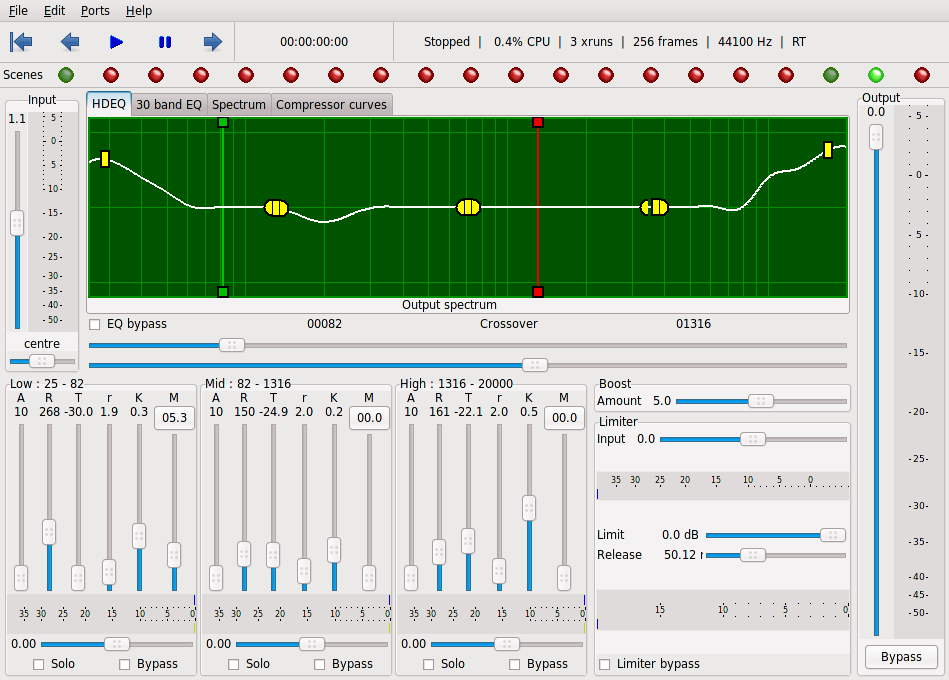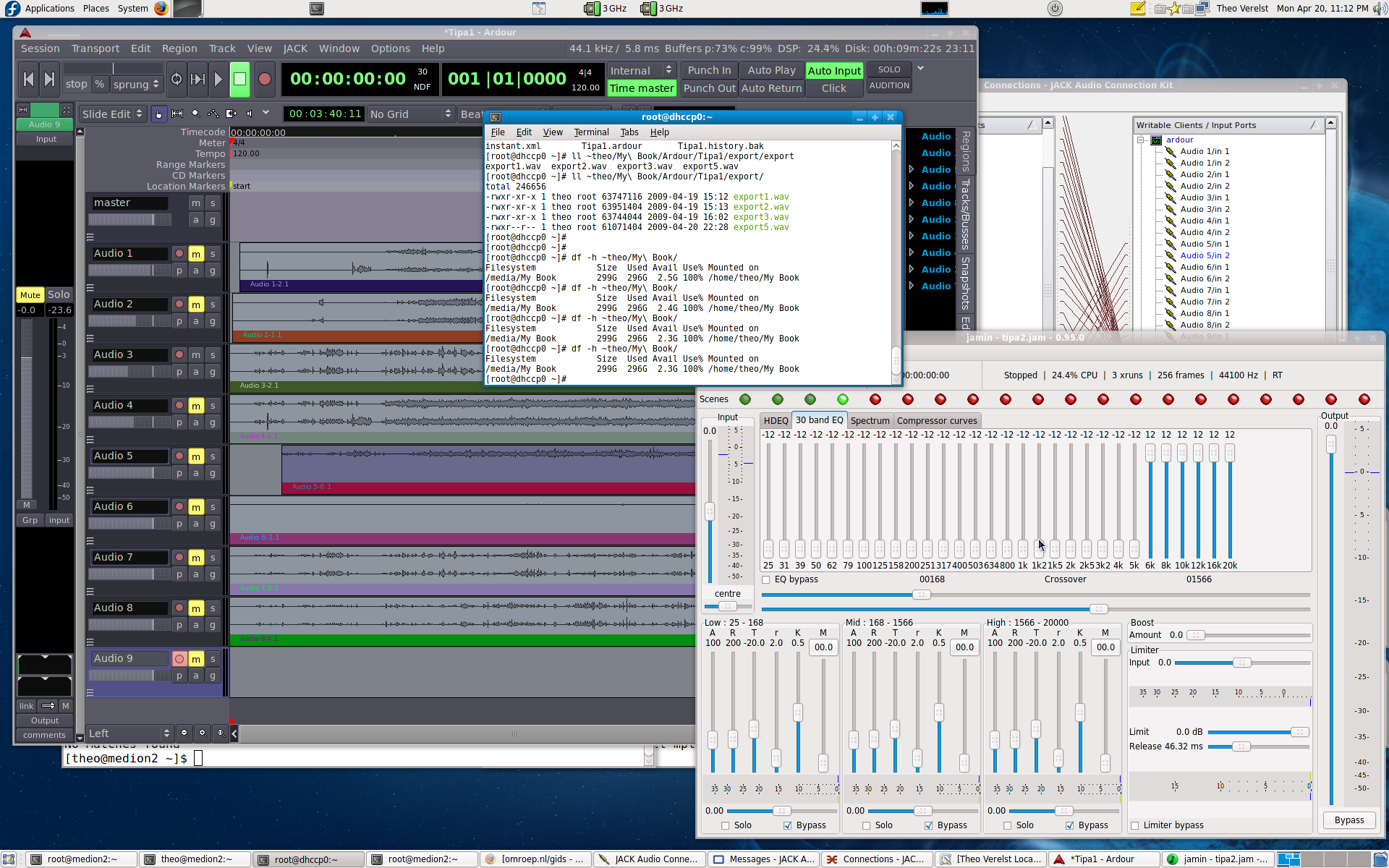 For the above second shifted track version, I used Jamin for separating the guitar track frequency range in four seperate bands, like above the highest frequencies are seperated, and recorded on one of the 4 frequency seperated tracks.






etc. (except I put the 20k slider low, too), this is what for the latter setting the 1024 band eq looks like: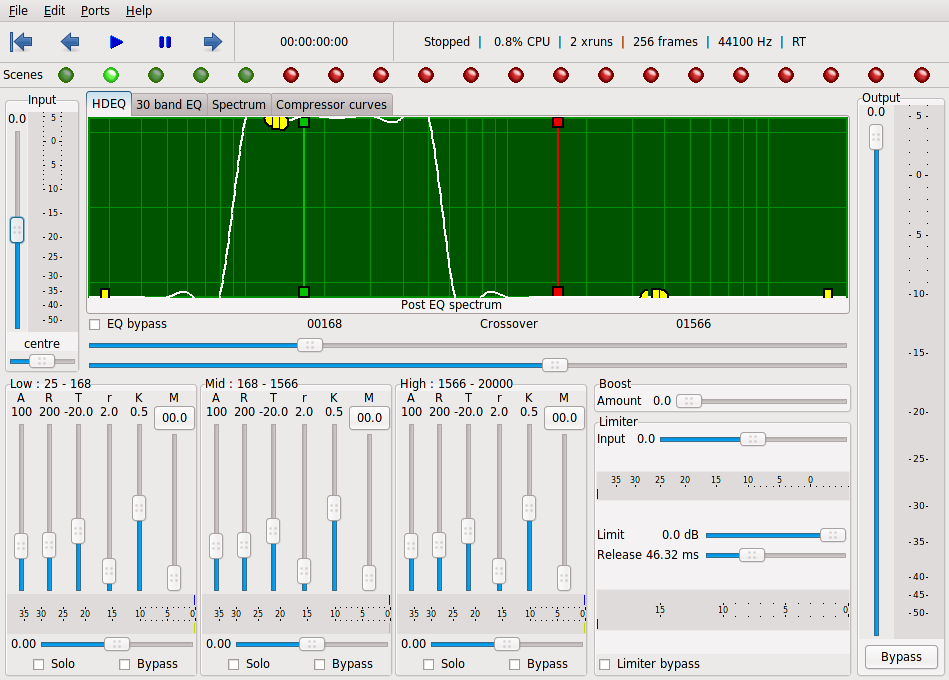 These separate bands receive individual processing with a tube simulation effect with different settings per band, to try to lessen sampling problems with such effect, and one or two band receive and extra separate effect like chorus (Tracks 6 through 9).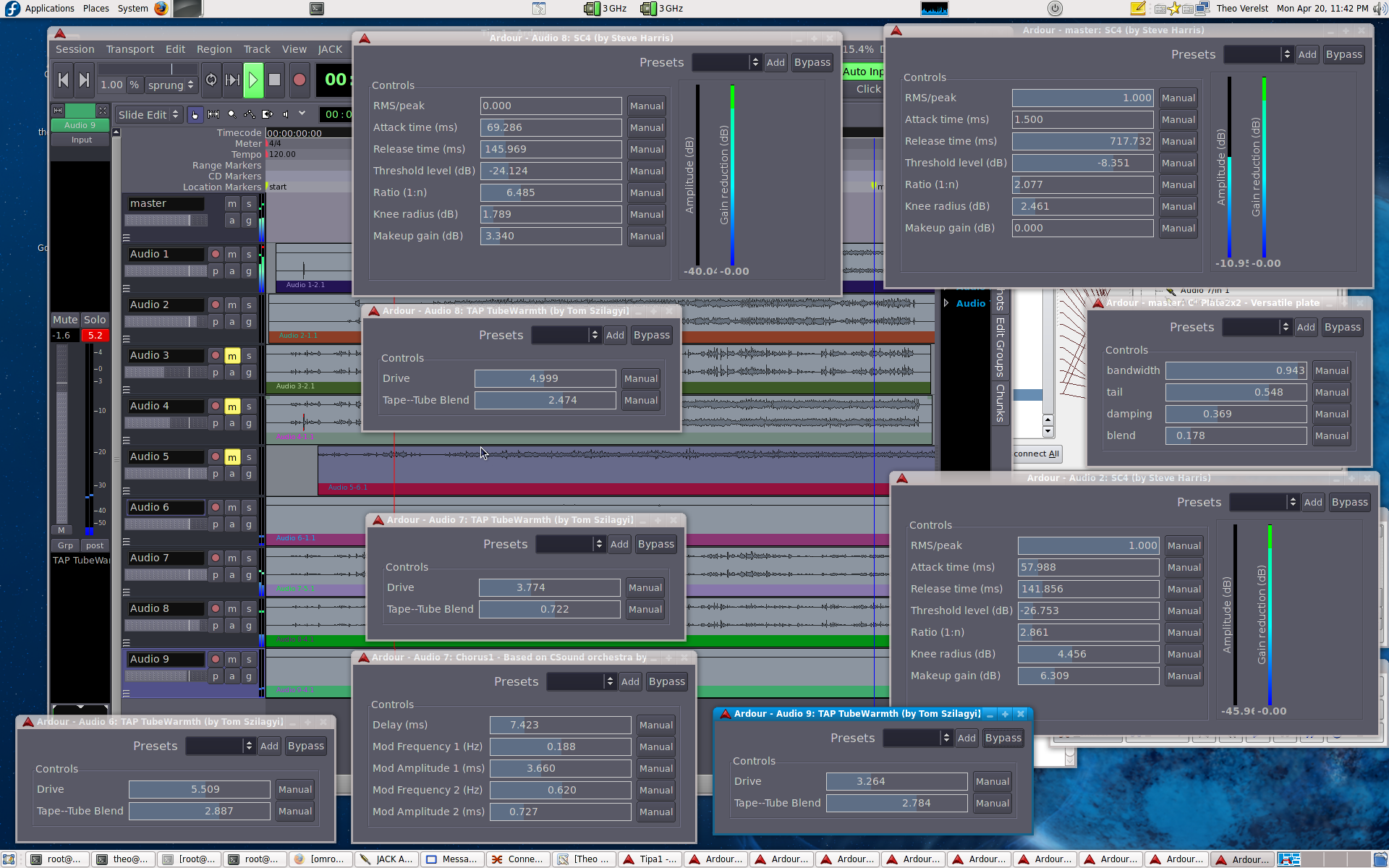 Also, I've added compression and/or reverb to the other tracks and the master and I changed the stereo base for the electric piano track. Oh I must make clear the guitar track is not as usually should be done, that the frequency band separation is done before any processing to the signal because it had eq and reverb and probably compression added to it in the Rakarack processing which is on the recorded stereo track. Also, this of course isn't necessarily a perfect filter at all, because it is FFT based, and in this case it may be so that there is a shift in fft kernel noticeable between the different frequency bands because they were made asynchronously, as is deliberately interesting, because 'music' which works on the boundaries of fft intervals is so sick I don't want to listen to it much, almost per definition. So above I prevented that by making a mix of the jamin and direct sound, which sounds great on the voice in the beginning of the piece when put on big speakers (speaker, actually, it comes only from the right channel, and it sound lousy on the drums) sort of ELO like effect, and in the last case I made the one processed guitar track at least with no synchronized fft intervals...

Well, here's the result, be sure to set your stereo to a low enough volume when you try it, because loudness here is considerable after all the processing and compression having been applied (oh and I didn't quickly find a stereo noise gate, so there is some digital background noise when the compressors are open):

tipatina's shifted tracks, compressed to 0dB, jamin processing on guitar and effects (03:50 CD quality

.wav

file

36 Mega bytes

)
idem (.mp3 256kbps 7 MB )


There is interesting reverb possible with these effects, not bad. I could imagine doing something with that, and making music work for that a bit, that should sound like the old recordings can sound really good, like the jamin on the intro e-piano sound a bit like Motown.

Remember that I do argue artists should be able do chose their PA system, and that the shifts in these tracks happen in life performaces, too, and that the variable delay of a (even if that would exist good) zero phase filter bank and of the fft based tranforms around is ugly for reasons examplified here. What a great sound are possible though, on the other hand, that guitar sound is actually cool, and the mixes certain demonstrate potential for sounding good and also varied and on varied systems, I tried them on my big monitors, and even on a (very good, but still) notebook and a transistor radio sized speaker, and with tweeter added to that setup it actually rocked at low volume. So: far from perfect in certain senses, I think, but still worthy experiments.



Trying out Qucs a little more
I've (on Local Diary Page 35 ) tried this Free and Open Source electronic circuit simulator out before, where it behaved nicely, but not very fast or particularly better for the purpose of the audio circuits being virtually measured than SPICE in some incarnation (in fact there is a (commercial) Cuda accelerated Spice).

This time I've looked a few example circuits from the main website, such as below.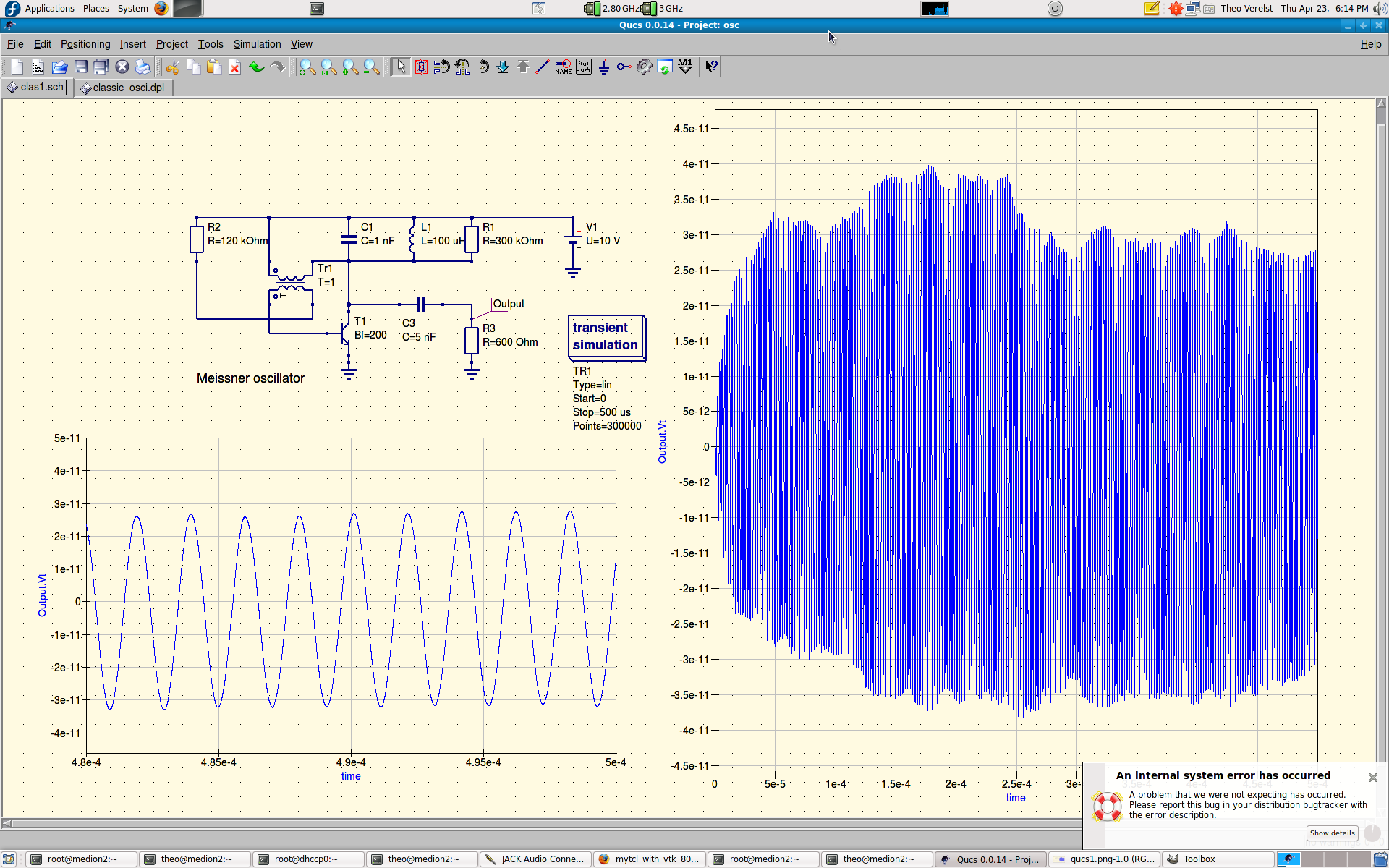 Some of the unevenness of the signal, probably from the putting on transient, could be the graphing method and unaccuracy, but the blowup of the last part shows actual unevenness in the signal, still, and I can't help thinking I'm looking at simulation accuracy limitations...