Multimedia from March 11, 2005
Here are some pictures I took from the Jazz/Pop session in the upper hall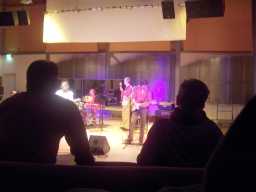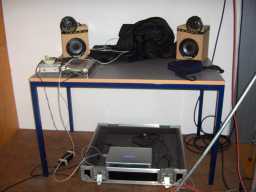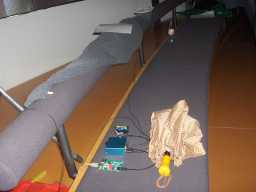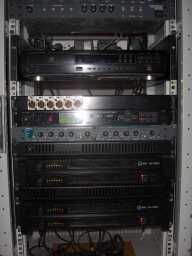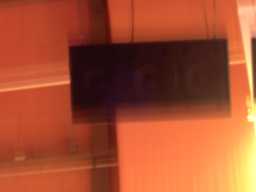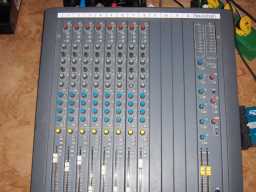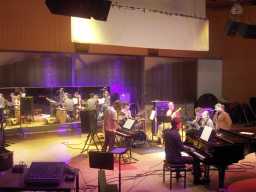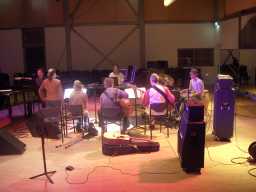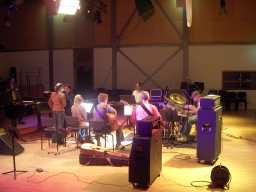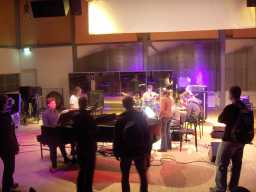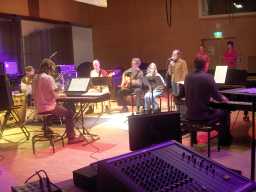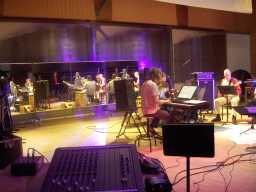 Click on the images to get the original photo (a little under a megabyte).
I've madea few short audio recordings intended for high quality reproduction (not for small speakers or to sound cool on the average small system) which are recorded with a lot of reverberation from the hall by accurate condenser microphones, a fast and distortion poor preamplifier, and a high quality usb based AD converter, at CD sampling rate.
See also my Audio Page.
Me trying the piano sound 6.5 MegaByte (high sensitivity setting)
Me trying the drum sound 11.5 MegaByte (high sensitivity setting)
piano+singing 21 MegaByte (low sensitivity setting)
whole band, one song 51 MegaByte (low sensitivity setting, end part digitally made louder afterward)
You might have to right-click Save on the link to get the wav files, which should play in most media players without problem, or can be used in Nero for instance to burn a audio CD track.
Alternatively, using Open Url from the File menu in media player or realplayer or winamp or others probably works, but streaming is NOT realtime at the moment, even though you'd have the required bandwidth, the server can upload at about half the rate of the audio, so at any rate you'll have to wait.
The upside of this is that the quality is full, uncompressed CD quality, and both microphones, amplifier and AD converter contain the full spectrum up to 20 kHz.
---
Copyright I guess lies with the artists and the recording engineer or something, I guess in this time of open sourcing the materials can be freely downloaded for non-commercial purposes..
Home (alt) Tripod Home Local Diary list (Secure) Tripod Diary List Last Diary Page