My stand ( the second day):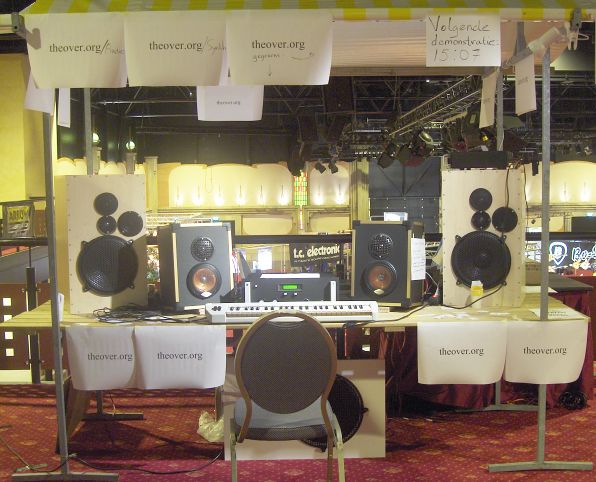 Shown are big studio monitors annex "Small" PA speakers, with on top of the right one the 2x100Watts amplifier, the 15" subwoofer below the table, the synthesizer 19 inch rack unit (the black machine behind the generic midi keyboard), and the two excellent transportable high quality medium sized studio monitors.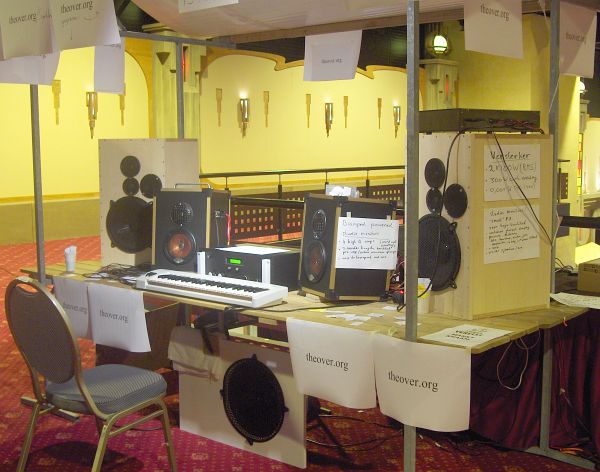 Not so visible are the custumized car booster and battery with charger which powered the subwoofer with about 400 Watts, and the notebook with the High Quality USB AD/DA converter to reproduce music and sounds with, including a small sized external 60 Gig usb hard disk with many wav files from ripped CD's on it.
In short: I demonstrated my amplification systems and the synthesizer, and played DJ a bit in between, for isntance with
this rock and roll show
at the end of saturday (lossless wmf 700kbp/s).
Did that work with these prototypes I produced all myself from very small budget? Yes, very well, in fact. Very loud, extremely good quality, the synthesizer was described as very fat, and many people seemed to like the music quality, even through very loud guitar and bass guitar tests from the below venue.
The number of fair visitors was far from stunning, but more than a few people stopped by to chat and inquire, and most listened.
The second day some people tried the synth for themselves, connected to the medium sized powered monitors.
I've even jammed a bit (really a bit, but pretty good) with some guys playing the 'stick' guitar over a Bose pillar, using the medium sized monitors.
The real heavy sound required the big speakers and the sub (under 40Hz) at significant power to flap pants and to be loud in a wide circumference.
Commerce?
At the moment no official commerce, but inquiries for purchase or dealership/production deals are welcome, and there are some pieces of equipment for (non-business) sale, 2000 euros for the medium monitors and 2000 euros for the synthesizer (which I plan to extend a bit with memories and such). I'm sure I can built small amounts of the high quality 2x100W RMS cont . amplifier (19 inch), I don't know what they would cost, maybe 800 euro?